Alois Ruf has been in automotive business for a while and many people have heard about his creations. He worked for Porsche since 1974 and became known with 211-mph Ruf CTR Yellowbird, the fastest production car in the world in 1987. Many of Ruf's creations have been based on Porsche cars: among them are Ruf Rt 12 and Ruf CTR 3.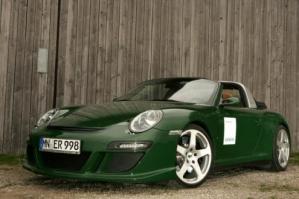 But Alois Ruf does not only deal with high-powered vehicles. He works on environmentally friendly cars as well. His company has designed 2010 Ruf eRuf Model A, a battery-operated Porsche. Now the designers work on 2011 Ruf Greenster which is about a year away from production.
The green sports car is based on Porsche 911. It runs on a 270kW motor that provides 362 horsepower and around 700 pound-feet of torque. Driving at about 140 mph an owner might expect the batteries to last for 70 miles, but the designers are working hard on new technologies which are supposed to expand the range. At this point the battery pack becomes fully charged within 6 hours, but it should be reduced significantly soon.
The new 2011 Ruf Greenster is going to be sold worldwide at about $300,000. Ruf says if Porsche agrees to sell 911 body shells without an engine, the green sports car will be even cheaper.
2010 Beijing Auto Show

The 2010 Beijing Auto Show that took place last week was full of "green" cars. The environmentally friendly vehicles were shown in a form of hybrids, Electric cars and several futuristic exotic concepts.
2009 Frankfurt Auto Show: 2010 Porsche 911

Porsche is going to Germany with two editions of the 911 model: 911 Turbo and renewed GT3 RS. Both of the vehicles are claimed to have great fuel-efficiency, however, the actual numbers are kept in secret till the 2009 Frankfurt Auto Show.
Indonesia Goes Green

Indonesian government has held the 2009 Indonesian Auto Show from July 24 to August 2 and following the world fashion on fuel-efficient vehicles the officials announced there that they were going "green". The Finance Minister Sri Mulyani says it is very important to invest in the development of eco-friendly technologies and design of small cars.
Organic Racing Car

An interesting idea came to the heads of a team of designers in England. They have decided to create a racing car built from natural materials that runs on waste products. Formula 3 car is mostly made out of recycled carbon fiber and runs on vegetable oil and chocolate waste.
Ford Is Ready to Be Green

Many manufacturers planned to make "green" presentations at the 2009 Detroit Auto Show. Ford joined the group telling about its future projects.