Here is a proof that there should be no fear in the purchases of GM vehicles: although the main office of the company is working on the restructuring, some plants are closing and vehicles are becoming discontinued, there are still people which keep developing their projects.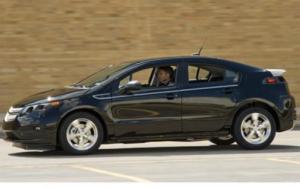 Chevrolet Volt team worked hard and is proud to announce they are weeks ahead of their schedule because the pre-production car is already assembled and goes through test drives now. The video of a test can be seen on GM FastLane blog.
The electric Volt drives fine, but some "tweaking" needs attention, says chief designer Andrew Farah. To his opinion the powertrain and chassis can be felt and adjusted even in "mule" vehicles, but the real pre-production car helps to find out the minor flaws such as the sound of blinkers or doors. Steering at low speeds is also studied more closely on the real model than on the "mule" cars.
GM is going to build only few Volts per week, planning to ramp up to 10 units per week. By October 80 pre-production cars will be assembled to complete all necessary tests.
Chevrolet Volt Will Use Google Maps

Chevrolet Volt is a long-expected and much desired car, but General Motors tries to draw even more attention to it by adding new features. This week the manufacturer announced that Volt owners will be able to use Google to determine their location and help finding the best way to the desired destination.
2010 Geneva Auto Show: Opel Concept

Opel is planning to bring an EV concept to the 2010 Geneva Auto Show. The company says this is the symbol of their "vision of future mobility". The drivetrain of the concept is based on the 2011 Chevrolet Volt system.
Bob Kruse Is Leaving GM

While Chevrolet was excited to have an unusually quick development of Volt and announced that the electric car will be ready several months earlier than they expected, the team did not notice that its leader decided to go different direction.
GM Is Building a Battery Plant

The American automaker, General Motors, does not plan buying lithium-ion batteries for electric cars from other manufacturers, the company has announced that there will be a plant built by them specifically for this purpose.
Does Volt Really Use 230 mpg?

This Tuesday General Motors has announced that the new hybrid Chevrolet Volt is going to do 230 mpg in the city driving. The manufacturer said that "a draft EPA federal fuel economy methodology for labeling plug-in electric vehicles" was used in the development testing of the car.